Strategic Priorities
Connecting Care
Select one of the Strategic Priorities below to learn more.
CONNECTING CARE TO SUPPORT BODY, MIND AND SPIRIT
Strategic Goal: We will welcome every patient, resident and family caregiver as a person with a unique set of strengths, support networks, spirituality, physical and psychological conditions, and personal goals. We will create linkages across our programs and partner across the region to connect care and services to meet whole person needs.
What We Heard from Stakeholders
Participants in the strategic planning engagement sessions told us that they liked the approach we were taking with our patients, residents and family caregivers and have asked us to continue to pay attention to and respond to the unique needs of our patients, residents, family caregivers, focusing on body, mind and spirit.
They also recognized our strengths in integrating programs and services and building partnerships. As a result, they suggested that we build on these pockets of strength to create more integrated pathways for prioritized groups with the most complex conditions, and to continue our work to integrate programs and services to allow for a seamless flow for patients, residents, and family caregivers that meet whole person needs. With respect to partnerships, we heard that it is important for St. Joseph's to partner with regional health care collaborators and funders to create links, funding models, networks and knowledge sharing that enable smooth, connected transitions in care.
We also heard participants identify a need for St. Joseph's to focus on data and measurement of patient outcomes. To accomplish this, they suggested that we begin to measure meaningful patient outcomes related to whole person recovery and quality of transitions, and partner to build foundations for an interconnected system for patient information and data analytics across the region (ensuring that information is accessible, collaborative, seamless and meaningful for caregivers, clinicians and patients).
What we will
accomplish By 2021
We will have strengthened our relationships with London Health Sciences Centre (LHSC) and other partners to ensure patients are cared for in the right place and transitions between providers are smooth and supported.
We will evolve future-state regional health care that blends specialized in-person care with distributed and virtual approaches, where needed, to bring care to where people are.
Restoring nerves, enhancing lives
Nerves are like delicate cables full of fibres that send and receive messages via electrical signals. When these signals are interrupted by injury or disease, it can have a devastating impact. That's when experts from the Peripheral Nerve Clinic (PNC) at St. Joseph's step in to provide patients with complex peripheral nerve injuries a one-stop shop for assessment, diagnosis and treatment.
Peripheral nerves are the wires that connect the spinal cord and brain to the body.
"When these fragile nerves are damaged, it may cause muscle weakness or pain and limit the ability to feel sensation," explains Dr. Doug Ross, plastic surgeon with St. Joseph's Roth|McFarlane Hand and Upper Limb Centre (HULC) and Co-Director of the PNC.
Some of the causes of peripheral nerve damage include trauma that severs a nerve, nerve entrapment (direct pressure on a nerve), tumours and fractures.
The PNC was one of the first of its kind in Canada to combine nerve surgery, rehabilitation medicine and expert therapy – a model that has proven so successful it has been copied by most academic centres across Canada. This unique, holistic approach has resulted in patients with complex nerve injuries coming from all over Canada to be treated at St. Joseph's.
"People lead busy lives, so to save them the time and inconvenience of having three different appointments with specialists, we coordinate their care into one appointment," says Dr. Tom Miller, Co-Director of the PNC and a physiatrist (a specialist in physical medicine and rehabilitation).
Three teams – physical medicine and rehabilitation, HULC and hand therapy – serve PNC patients. Here's how they work together to care for patients.
EMG assessment
To measure and assess nerve function, Dr. Miller and his team conduct an electromyography (EMG) assessment by applying a small electrical impulse to nerves to listen to how they are communicating with muscles and sensory organs.
"Once we've analyzed the data generated by the EMG, we pinpoint which nerves and muscles are not working and build a plan to get them working again," he explains.
"While we are unable to replace nerves, we can repair them or transfer a working nerve to a non-working nerve."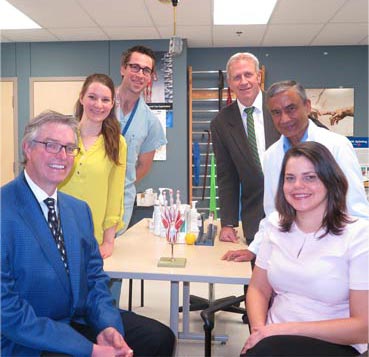 Peripheral nerve surgery
At HULC, Dr. Doug Ross and Dr. Chris Doherty perform many types of reconstructive nerve surgeries to restore function to the muscles served by the damaged nerve. Using a variety of surgical techniques to repair and restore nerve function, they often operate together during these intense and intricate surgeries, which may last more than 10 hours.
Hand therapy
Occupational therapists (OTs)/hand therapists develop and implement the rehabilitation treatment program for patients following peripheral nerve surgery.
"When we first see patients after surgery, we assess their range of motion and muscle and joint function, and determine how we can help them recover and return to their day-to-day activities," explains OT/hand therapist Shrikant Chinchalkar. If the patient has had a nerve transfer, they also help to retrain the brain to have the nerve perform a new function.